Who says that bathrooms have to be plain and boring?  This area of your home is used countless times per day, making it one of the most important spaces in your home.  Forget dull colour schemes, drab patterned tiles and uninspiring accessories – let's liven up our bathrooms with plenty of glitz and glam.  Create a bathroom fit for a diva!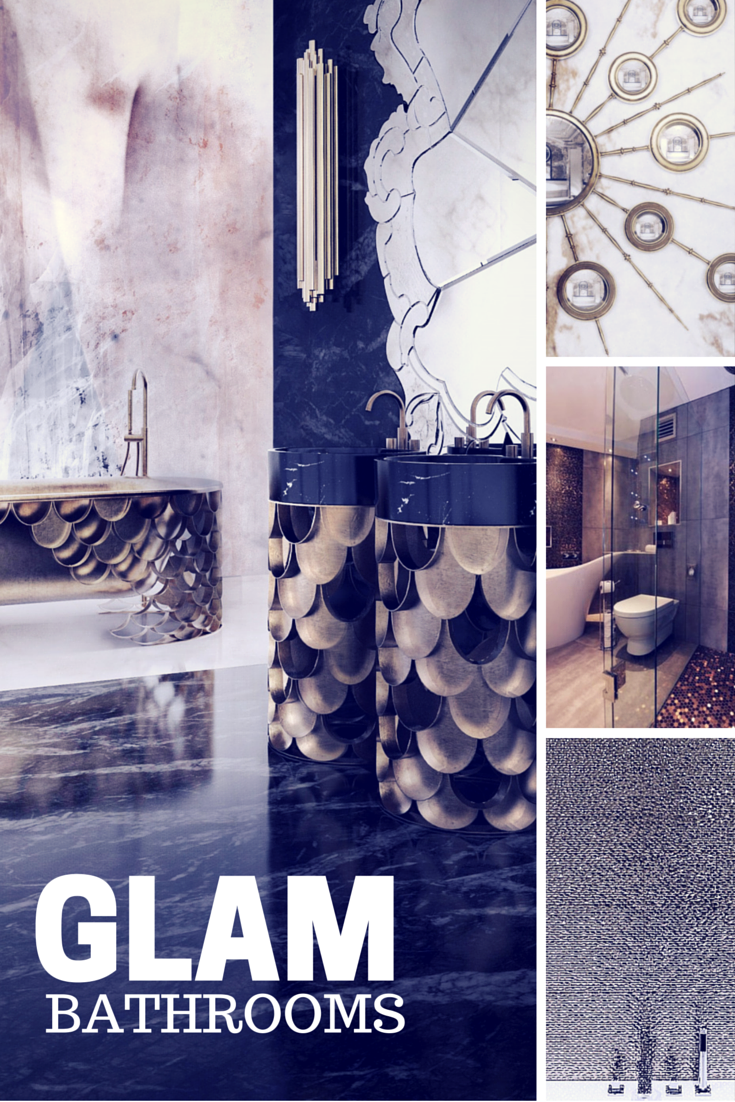 Today's blog post has plenty of ideas;  perfect if you're looking for a little inspiration –
Luxe tiling –
Transform your bathroom by installing shimmering tiles.  We love the glittering gold wall (below left) by Polish interior designers Anna Maria Sokołowska and Marta Piątkowska from Dragon Art.  The second bathroom (below right) features a glittering mosaic of copper and bronze tiles, plus a coordinating panel on the wall.  The overall effect is luxurious.
Source: Dragon Art
Source: Freshhome.com
Overhauling your WHOLE bathroom is quite a big commitment, but simply changing your bathroom tiles is a quick and easy way to give the space a much-needed update without causing too much upheaval.
— From our blog post:  bathroom tile ideas to temp you
Source: Fired Earth
Source: Fired Earth
Dramatic detailing:
Go big or go home with your accessories.  Choose the most opulent fixings that you can afford and don't skimp on the details.  In the photo below, the chandelier captures your attention, but then your eye is drawn to those stunning feet on the bath.  Gorgeous.
Below left, the gold and white washbasins are spectacular on their own, but the dramatic mirror adds impact.   Below right, the gold basins and bath are eye-catching.  The wonderful design is inspired by koi carp.  Both bathrooms use statement pieces to achieve an overstated, maximalist feel.
Source: Touched Interiors
Source: Touched Interiors
Illuminating lighting:
Any interior designer will tell you that great lighting is key in any room.  The brighter the better.  Think beyond the boring bulb in the centre of your bathroom and consider investing in unusual solutions.  Think ceiling spotlights, interesting wall lights, dramatic installations (below right) and cabinets that light up (yes they exist – perfect for when you're getting ready for a night out on the tiles).
One final tip: don't be afraid to use large mirrors to bounce light around the room.  We love how IKEA have created a gallery wall using an eclectic mix of mirrors.  Stick to ornate detailed frames to create something similar in your bathroom.
More bathroom decorating tips from Eclectic Home –