You've spent a small fortune on that new carpet or rug, so undoubtedly, you want to make sure it lasts for a very long time. The key to keep it looking great is to keep it well maintained. Extend the life of your rugs and carpets by following my top tips below.
GIVE IT A GOOD BEATING ONCE IN A WHILE:
Obviously, we're talking about your rug and not your husband/child/pet!!!!! Go back to basics: every so often, take your rug outside and hang it over the washing line. Beat it with a broom or a specialist rug beater. This is a quick and easy way to dislodge the grit, dirt, and grime that your hoover missed.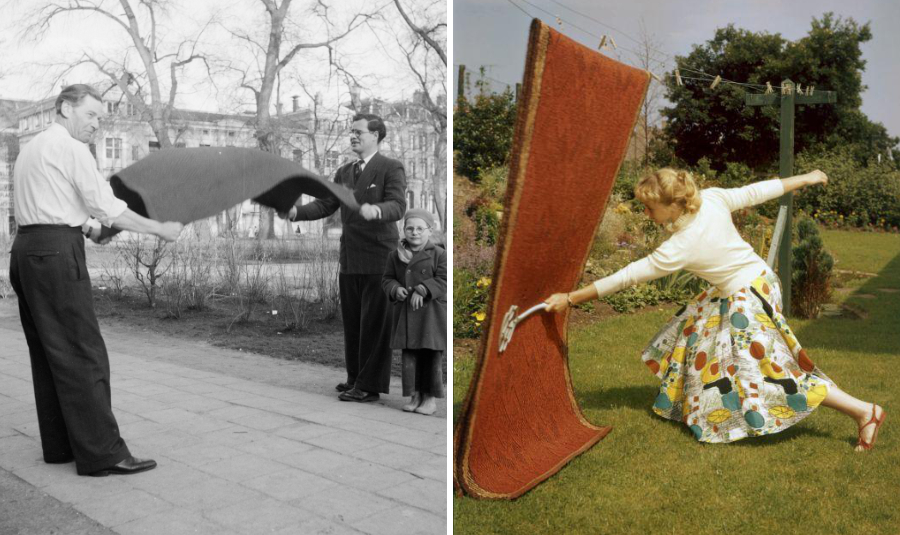 CARPET DEODORIZER:
Does your carpet smell a little musty? Could it do with a little freshen up? There are plenty of ways to deodorise your carpet. You can:
Purchase a pre-made cleaning solution (often for use in a home carpet cleaner)
Use a "shake-and-vac" style powder that you hoover up
Or make your own, often using cupboard staples like bicarbonate of soda.
GET DOWN ON YOUR HANDS & KNEES!
Get down on the floor with a squeegee and give your carpet a brush. The rubber blade dislodges hidden pet hair, dust and other debris. If you try this on your own carpet, be prepared to be surprised (or horrified)!
IS YOUR HOOVER UP TO SCRATCH?
Are you regularly servicing your hoover? If your hoover isn't performing efficiently, how will it suck up the dust, dirt, hair and crumbs trapped in your carpet? When was the last time you replaced the filters? Have you checked the brushes recently, or are they clogged up with hairs?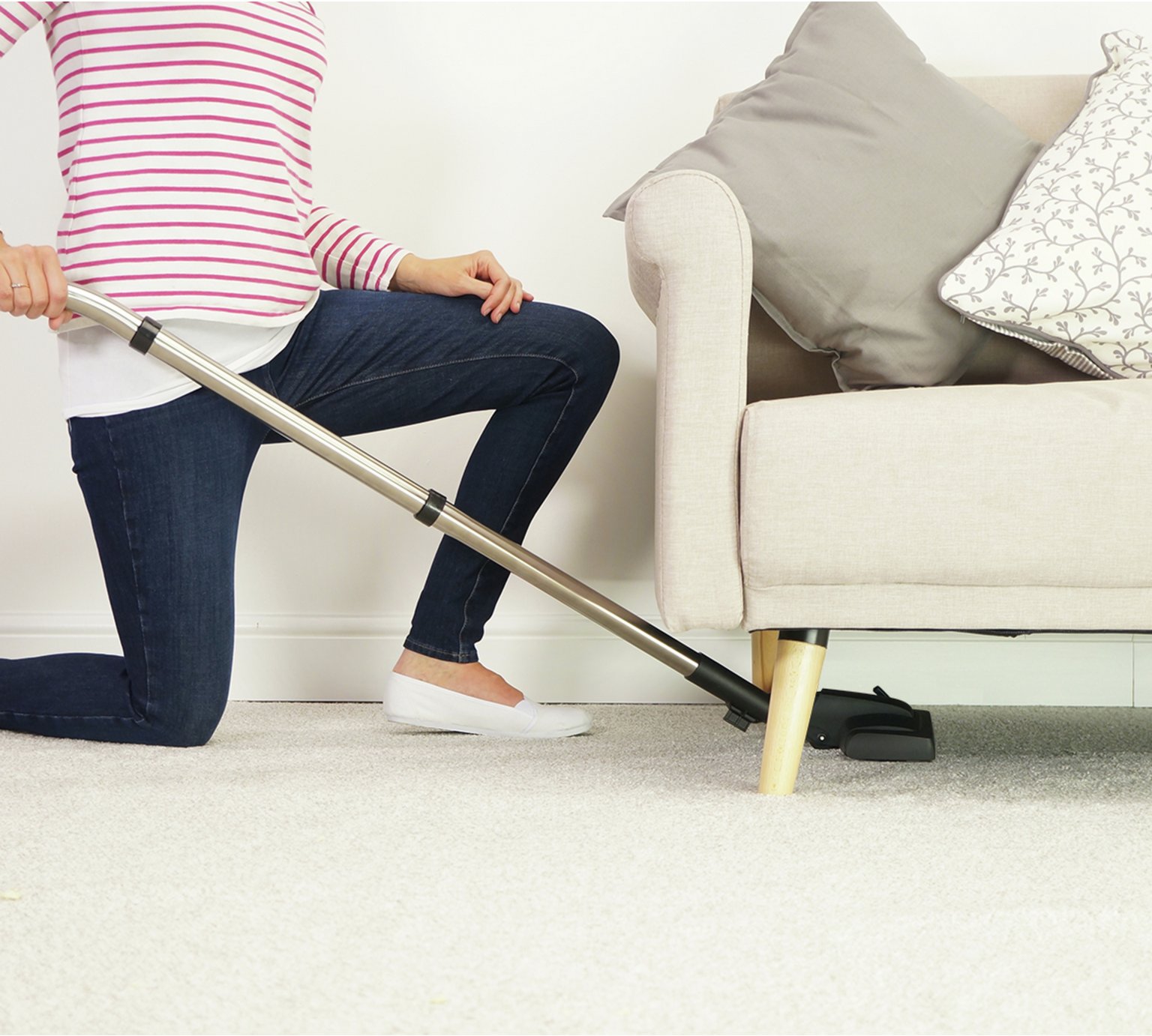 Remember:
use the right attachments for the right jobs,
hoover slowly, and
hoover frequently.
TACKLE STUBBORN MARKS AROUND THE EDGES:
Have you ever noticed those black around the edges of your carpet? Years ago, I blamed my hoover for these. I thought it was dust and dirt settling in the corners of the room and I needed a more powerful machine to clean it away.
Then, I discovered the term "filtration soiling". This is the technical name for that black residue. Filtration is soiling caused by airborne pollutants caused by air blowing through gaps in floorboards, under doors, though skirting boards and under carpets. It can leave dark lines that are difficult to remove. It has absolutely nothing to do with your vacuum cleaner or hoovering technique! Usually, filtration soiling is made up emissions from fireplaces and car exhausts; residue from things like furniture polish; and sand, clay or other soil particles.
It's pretty difficult to prevent filtration. If you have a home ventilation system, there are steps you can take (replace HVAC filters, clean air ducts). Otherwise, you can only really try to eliminate the places where air escapes (e.g. seal up the gap between the carpet and baseboard trim with a foam sealant) and reduce the pollutants in your home (e.g. swap to battery operated candles). The best option is to have your carpets professionally cleaned every once in a while. Speaking of which….
PROFESSIONAL CARPET CLEANING:
In addition to removing filtration marks, professional cleaning companies will be able to freshen your carpet, remove allergens, destroy bacteria and remove dirt and get rid of other nasties…
It's typically recommended that you get your carpets cleaned once every three years and ask the professional to add a stain guard, if available.
Professional cleaning doesn't have to break the bank. It can cost around £30 per room depending on the size of the room, what condition your carpet is in, what type of carpet needs cleaning and your location.
SHOULD I INVEST IN A HOME CARPET CLEANER?
A machine like a VAX carpet washer will certainly help with interim cleans. Especially if you have a puppy that has lots of accidents, or you live in a rural area where lots of mud is trodden in. Home carpet cleaners can assist with stain and bacteria removal, keeping your carpet fresh and germ-free. However, anybody will tell you it's not a substitute for hiring a professional.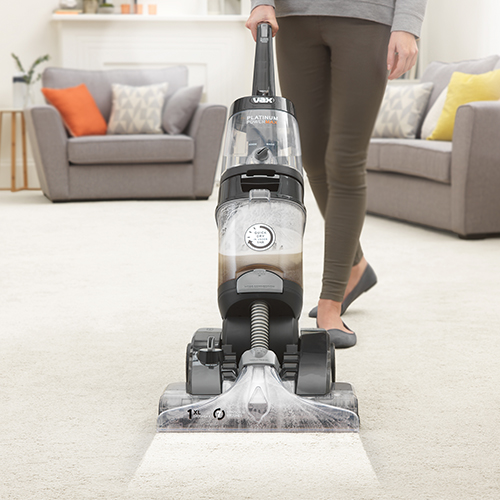 TREAT STAINS INSTANTLY:
Don't be tempted to hide stains with a plant pot! Improve the longevity of your carpet by treating stains instantly, while they're easier to remove. Dr Beckmans is a lifesaver for most stains. For larger, trickier stains, we refer you to the paragraph above: call a professional.
SHOES OFF:
Set a strict rule for both residents and guests of your home. Operate a strict no-shoe policy past the front door. Consider installing a sign at the front door to inform people entering the property.
NOW ADD YOURS:
Leave your carpet cleaning tips in the comments below. We'd love to hear from you!