Fancy updating your bathroom but not quite ready to rip out all the porcelain? Overhauling your WHOLE bathroom is quite a big commitment, but simply changing your bathroom tiles is a quick and easy way to give the space a much-needed update without causing too much upheaval. Here are five different ideas to inspire you:
1)

Bright and bold:
The bathroom is the perfect place to mix, match and clash colours. I love these bright turquoise tiles and the bold pink accessories. (Credit: IKEA)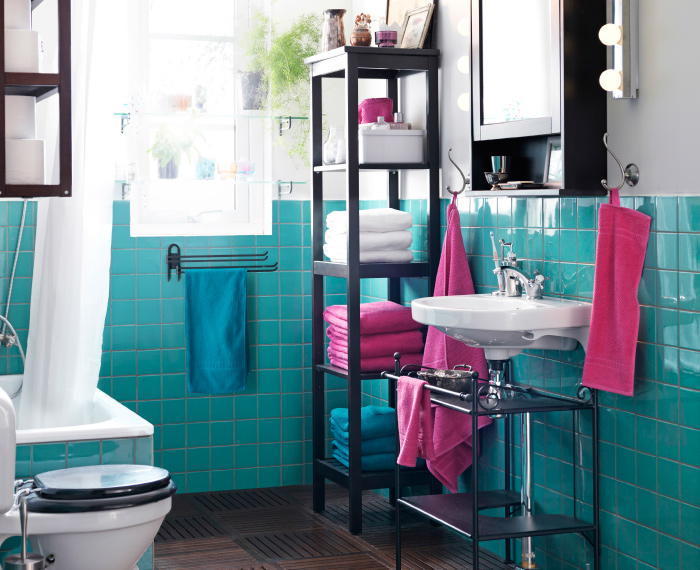 If you feel coloured tiles are too much of a commitment (especially if you're subject to changing your mind often) then opt for simple white tiles instead. Pair with accessories in your favourite prints and hues. Use this space to experiment with colours and patterns. Mix and match as you please. (Credit: IKEA)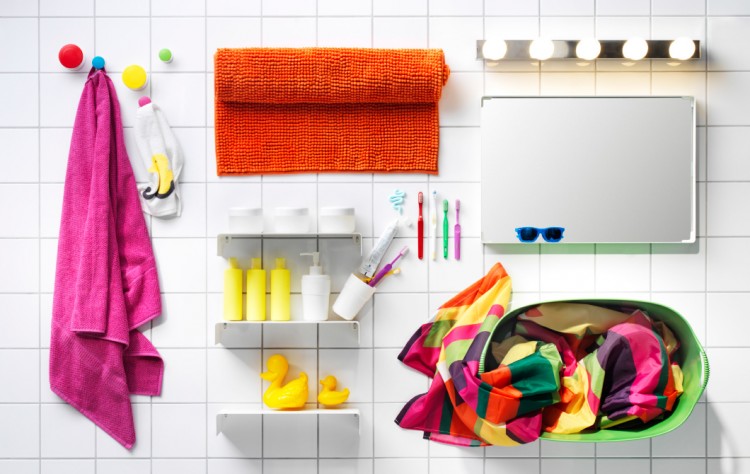 2) Funky floor:
Who said the tiles had to be on the wall? Why not create a bold patterned floor with monochrome floor tiles, just like the ladies at ABeautifulMess.com did?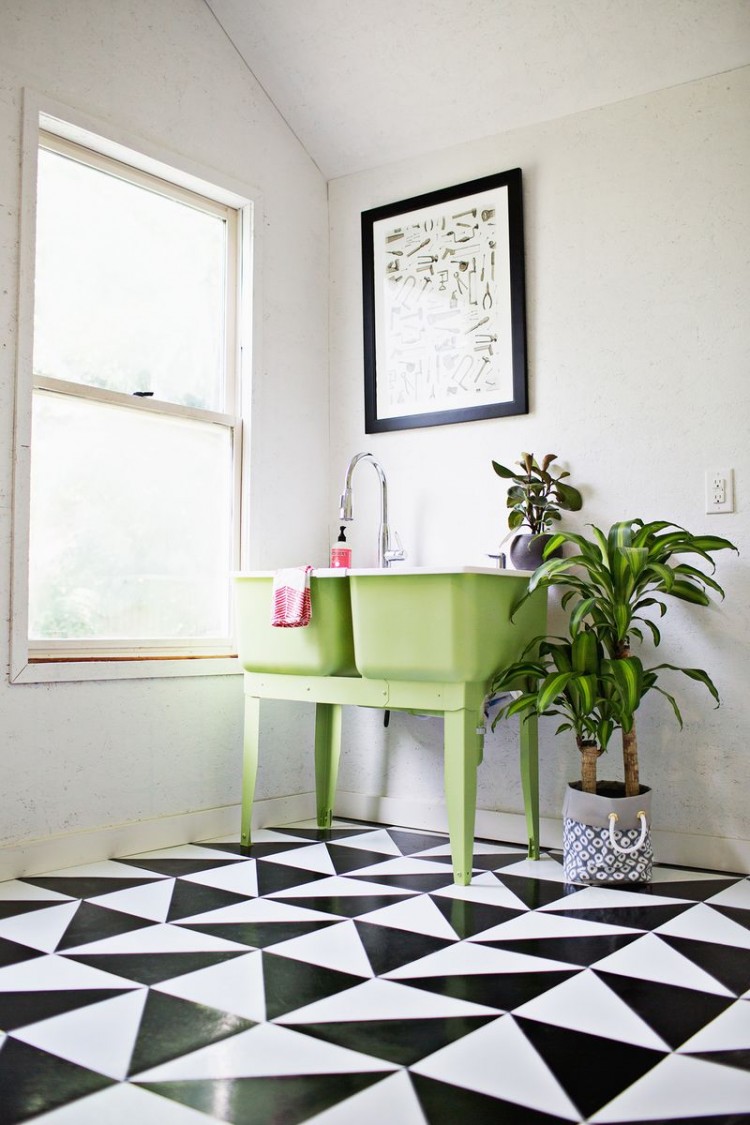 Wouldn't you agree those monochrome floor tiles look fantastic? I love the pop of colour from the sink basin too. Achieve a similar look by heading to your local DIY store and grabbing some paint! Refurbish that boring old bathroom cabinet with a funky shade like mustard yellow or azure blue! You can read the full floor tile tutorial on ABeautifulMess.com by clicking here.
3) A star spectacular
Add a smattering of stars to your wall and floor tiles to achieve a look that's stylish, elegant and enchanting with a playful edge. (Credit: Fired Earth)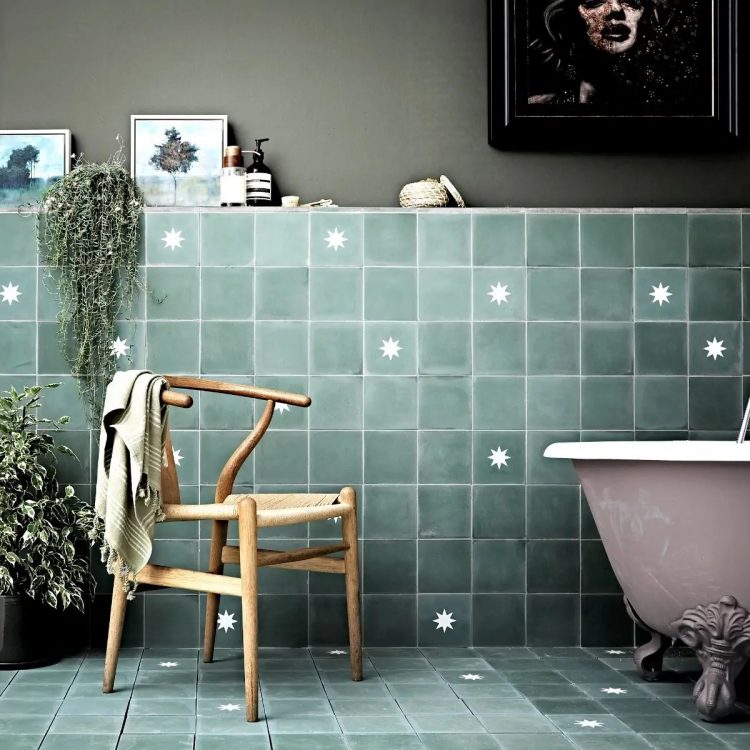 I really love the Bert & May Luna design from Fired Earth (in fact I'm a bit obsessed with ALL their bathroom tiles). The colour pictured here is 'Fennel' green, but they stock three other colours too: Iron (grey), Sapphire (blue) and Rose (pink). Prices from £3.36ea / £147.84 per m2.
4) In-SPA-rational
If you're not really into bold designs, pops of colour and statement motifs, you'll probably want something a little more calming. Take a little inspiration from your local spa to create a mellow and relaxed space.  Use simple neutral coloured tiles create a haven that is perfect for a nice soothing bath at the end of a fraught day.  Accentuate the luxe spa theme with your bathroom accessories. Cover the walls and floors with the same tiles for a spa-like look.
To complete your spa theme, opt for sumptuous towels, a large ornate mirror, and plenty of relaxing candles. Ahhh, bliss.
5) Decorate with tile stickers
Tile stickers are a temporary solution perfect for home renters, trend chasers and generally indecisive people! These detailed decals will brighten up your bathroom in an instant.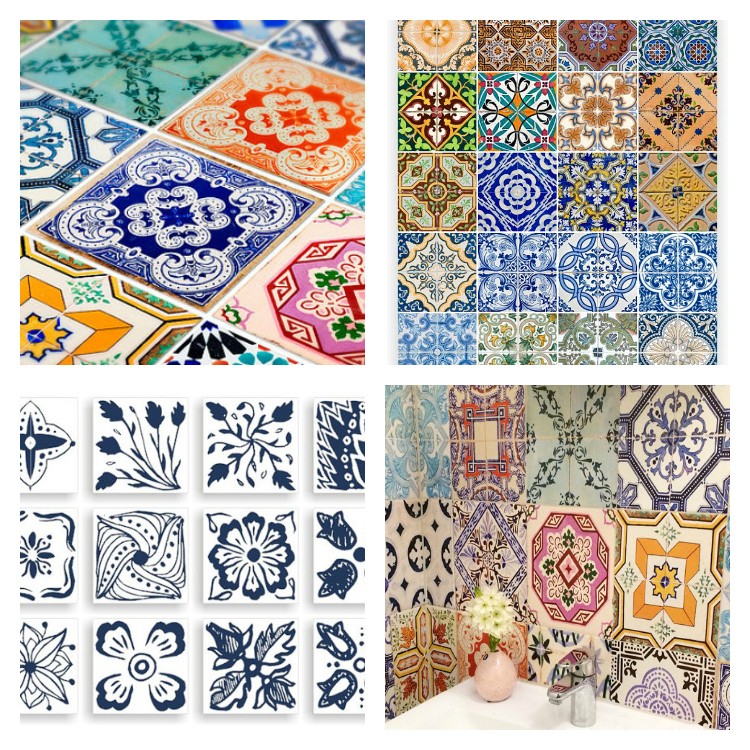 You can makeover your bathroom in a matter of minutes by applying these removable decals to your wall tiles. Mix and match colours, patterns and prints for a truly eclectic style. Source: ETSY.
Now share your idea:
Got a great idea for tiling a bathroom? Seen something on Pinterest that you'd like to share? Please do so below in the comments section. Thanks!