Planning a party for the summer? Want to spend time organising something truely "Pinterest-worthy"? Then you've come to the right place for inspiration.  Especially, if, like me, you LOVE planning fun celebrations, bright colours are your thing and you go CRAZY for unique finishing touches! Carry on reading to be inspired…
Pinterest-worthy summer food & drink:
1) Thirst quenching cocktails and mocktails
No summer garden party is complete without a jug or two of Pimm's, it's practically a British institution. It's one of two staple drinks consumed at Wimbledon, the Chelsea Flower Show, the Henley Royal Regatta and the Glyndebourne Festival Opera – the other being Champagne. Pimm's is also the standard cocktail at polo matches and it is extremely popular at the summer garden parties of British universities. As such, it's a perfect choice for our Pinterest-worthy festivities too.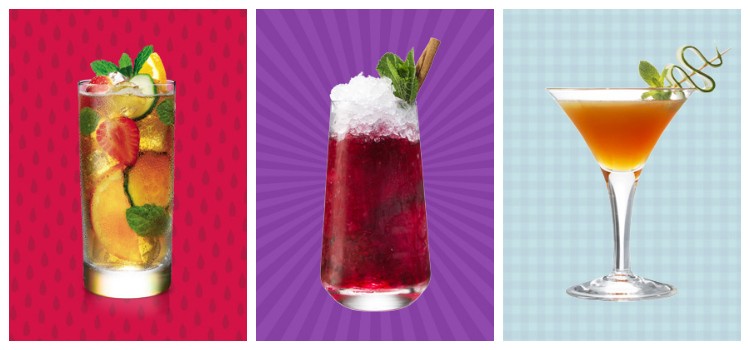 A jug of Pimm's looks impressive but is very easy to knock together, probably why it's such a favourite with us Brits! Here's a recipe:

Classic Pimm's Recipe from BBC Good Food
Fill your jug with ice and pour in 200ml of Pimm's No. 1. Top up with 600ml of lemonade and give the concoction a good stir.
Next, add several pieces of sliced orange and a handful of chopped strawberries. Mint sprigs and sliced cucumber is used as a garnish.
Your friends that are teetotal, pregnant, driving or simply off the booze do not need to feel left out! There are plenty of 'mocktail' recipes that everybody can enjoy. Try this visually impressive blueberry mint agua fresca from familyfreshcooking.com (pictured below). It's a healthy fruit punch made using only four ingredients, cold water and edible flowers! Get the recipe here.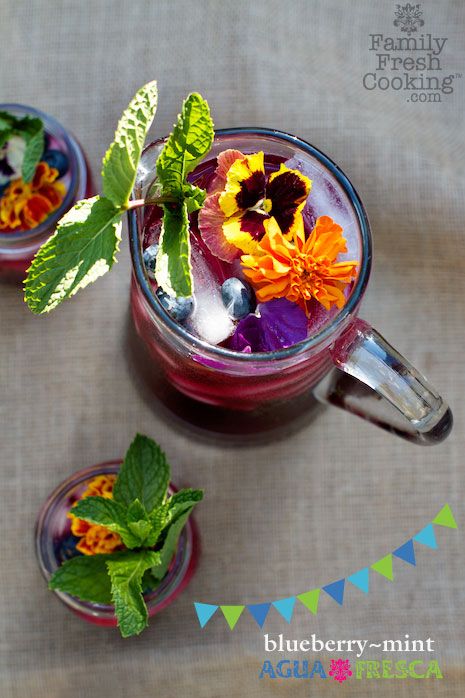 2) Mouthwatering main courses
Everybody is different when it comes to party food and there are no right and wrong choices. You might opt for a handmade pizza made in an outdoor clay oven or you could fire up the BBQ and make hotdogs with impressive toppings.
Personally, I'd go Persian. This is my favourite cookbook at the moment. I cannot rate it enough. I've made several of the recipes already and I'm seriously impressed.
I'd put the following on my party menu:
I've cooked all three mulitple times and they are amazing.
3) Delicious desserts
After spending hours sweating over the stove (or BBQ grill) cooking for guests, as hosts you're unlikely to have time or energy for baking desserts too. For Pinterest-worthy puddings, I'd think about cheating. Perhaps a visit to Marks and Spencer for something indulgent that you can serve straight from the fridge?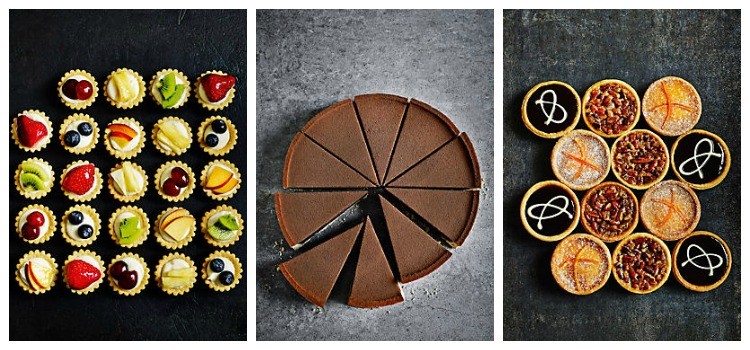 If you DO want to bake a cake, how about this beauty that I found on the Party Pieces blog? It's a Strawberry and Elderflower cake by baker and cookbook author Fiona Cairns. It is perfect for summertime. I made it for a Clandestine Cake Club meeting a few years ago. It went down a treat.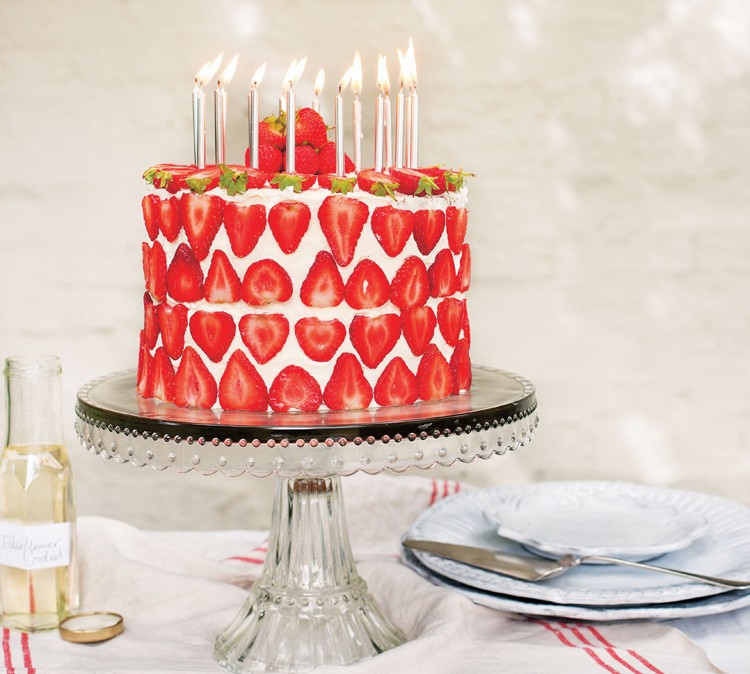 Get your garden party ready:
4) Spectacular seating
Make sure there is plenty of seating available for your guests to relax! If your party is a one-off, ask obliging friends to bring their spare patio chairs. If you're planning to entertain regularly, you may wish to invest in a couple of outdoor beanbags, additional seating like benches and scatter cushions to brighten the place up.

On my Pinterest travels, I always see backyards that are decorated as if they're another room in the house. Wooden fencing panels and walls are painted, there are mirrors and pictures hung on the wall, the outdoor seating resembles living room furniture and there are even bright and cheery rugs on the floor! Does your garden need a makeover? Most high street stores sell outdoor rugs and weather-friendly furniture. It might be time to investigate…
5) Dreamy decorations
I'm not sure why, but I find planning party decorations really exciting. I think it's because the right decorations can shape a party's ambience. Use a mood board (or Pinterest board) to carefully plan your party, only selecting decorations that add to the feel you're trying to cultivate.
Those who've visited this blog before will know that I love eclectic style… I classify this as bright colours, unique detailing and all things pretty! So, I am trying to bring that into my Pinterest-worthy party decor.
On my party wishlist:
Brightly coloured bunting – I love making bunting. If you have a sewing machine and some fabric, it's quick and easy to do. You don't even need to invest in expensive fabric. For my wedding, I made bunting from a floral bedsheet that I picked up half price at my local supermarket. I simply cut triangles with pinking sheers and sewed them to a piece of webbing. Pretty beginner-friendly. The photo below is from a bunting making kit I bought. I have my colourful bunting hanging in my kitchen currently!
Confetti garlands – Again, I made some of these for my wedding two years ago. (The photo below isn't from my wedding, but it's a similar example). A fab, easy and cheap DIY that any crafter can make. I used double-sided scrapbooking card from my stash and punched out confetti circles (using this). I then sewed through the centre of my circles and stitched them together in long lines (ensuring they were equally spaced). I made multiple garlands and draped them together around my venue. Hang yours around the garden, over wooden pergolas, tie them onto the trees, dangle from the doorway – the possibilities are endless.
Hanging paper flowers – I'm currently obsessed with the idea of making garlands from paper flowers and hanging them from the trees in my garden (below right). I've seen this idea in wedding photographs, but I think brightly coloured pink, yellow and turquoise papers would really work for a party. I plan to make some as a 'sensory' activity to put in the garden for my daughter to explore.
You could also decorate with paper chains, tassel garlands, fairy lights, lanterns…
6) Blooming marvellous flowers & a neat garden
It's unlikely that you'd host a party in an untidy home, so your garden should be neat too! Ensure your beds are weed-free and your grass short. Fill empty pots with flowers and prepare a few cheery hanging baskets. Not green-fingered? Buy artificial. I've had a couple of the years, they're brilliant.
Finishing touches:
7) Cutlery, crockery and glassware
Presentation is important, but there's no pressure to buy a fancy set of serveware, crockery and glassware to match your party theme. Just use what you have at hand. (Though, if I won the lottery I'd happily buy the whole kit and kaboodle from Anthropologie because everything sold there is just so darn beautiful…)
Of course, we can't possibly throw a Pinterest-worthy party without cute paper drinking straws! I'll be ordering some of these for my birthday festivities:
If you're a washi-tape addict like me, you can always have a go at making little coordinating flags for your straws too! I love how this blogger has used washi tape to decorate all of her party accessories.
8) A fabulous table centrepiece
Add a little wow factor to your table by creating a bold, beautiful centrepiece. You don't need to be an aspiring Martha Stewart clone with expert floristry skills to boot. There are plenty of simple ways to add flair to your table. Here are some quick and easy DIY ideas:
Use brightly coloured sheets of tissue paper to create a row of pompoms along the centre of the table.
Fill china teacups and saucers with little plants and dot around in clusters.
Obtain several mason jars in different sizes, fill with bright flower stems and tie with ribbon. Tie a couple of balloons (in coordinating colours) to the tallest glass jar (see below, but imagine it in PINK, my favourite colour!)
Save empty cans and run them through the dishwasher. Spray paint in a mix of pastel colours. Tie coordinating baker's twine around the cans. Decorate with lace, washi tape bunting, ribbon – anything you like! Fill with flowers.
9) Evening plans
If it's particularly clement and your guests are happy, relaxing and enjoying the midsummer vibes, there's every chance your afternoon party could extend into an evening soiree. It's smart to have a couple of chunky blankets on standby for guests who don't enjoy the cool breeze as the sun sets.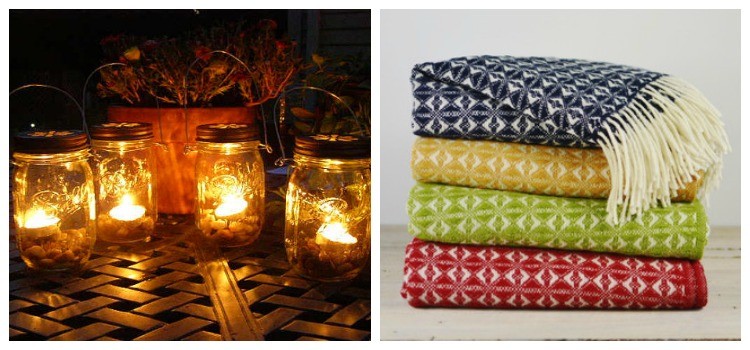 Think about lighting beforehand too, where necessary. Glass lanterns with tea light candles will illuminate your party sufficiently. Solar-powered lights are a must-have, and outdoor fairy lights are a no-brainer.
++++
Tell me your must-have party essentials:
Do you have your own tips to share? What makes an outdoors party Pinterest-worthy in your opinion? Do you have opinions on music? Party favours? Themes? Dress codes? Anything else? I'd love to hear from you! Post your message in the comments section below!