Ever notice how most mirrors are just so… square? Or round? Or rectangular? Well the geometric norm is being challenged by a delightful asymmetrical newcomer this season. Meet the 'Blob Mirror', the whimsically named design piece bringing an unexpected twist to rooms around the world. This playfully named accessory, with its organic and irregular shape, adds an artistic touch to any space it adorns.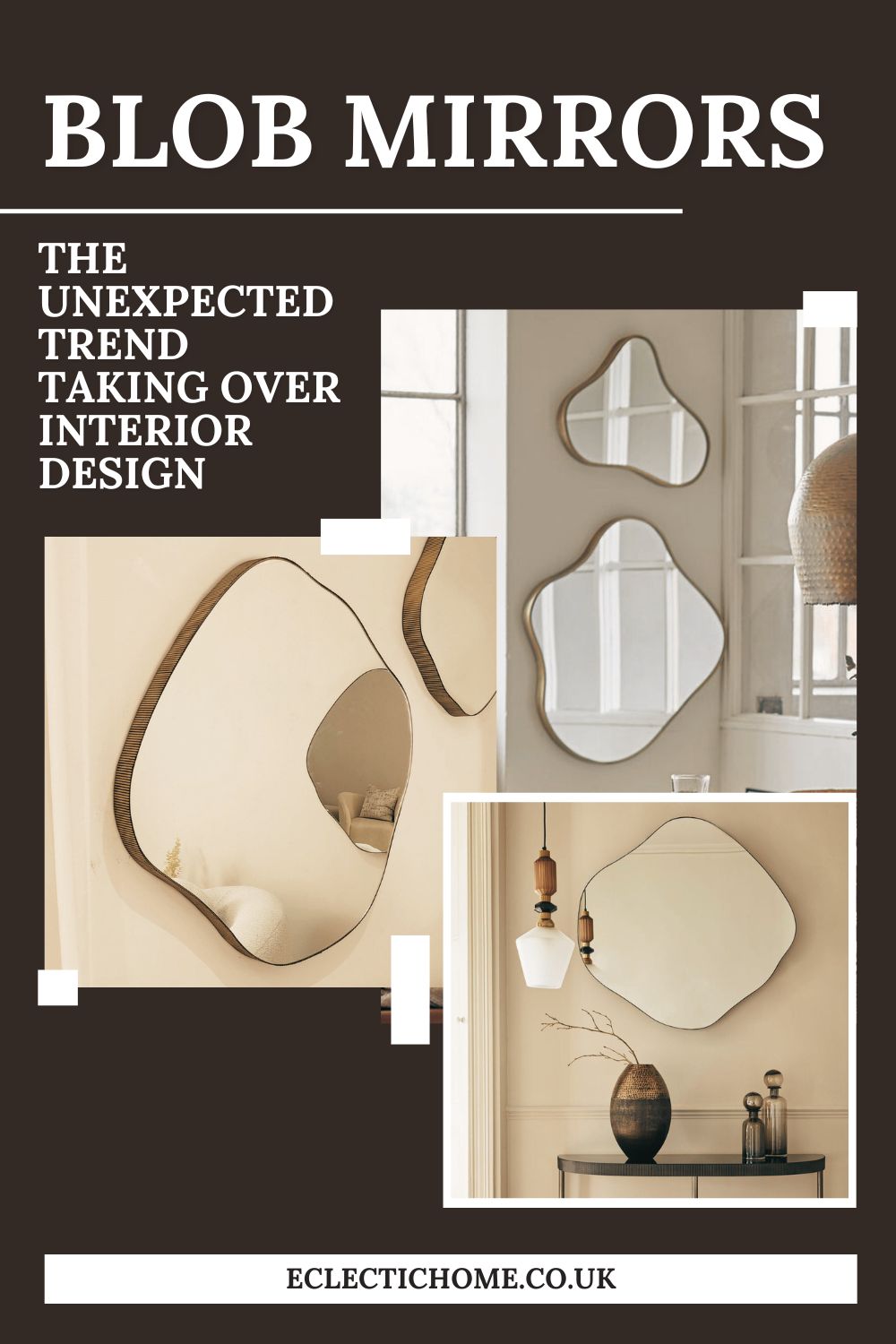 Breaking free from traditional round or rectangular mirrors, blobs create a striking impression, akin to a droplet of water frozen in time. Part functional mirror, part wall-art, they blend utility with a whimsical charm that's resonating with homeowners globally. They're making waves (or should we say blobs?) in homes around the world.
So, if you're ready to ditch the same-old and bring some fun into your home decor, stick with us. We're diving deep into everything blob mirror – why we love them, how to style them and where to buy them from. Buckle up, it's about to get blobby!
Why we love blob mirrors:
Here's why we're swooning over blob mirrors:
1. We Love Their Organic Shapes: The irregular, organic forms of blob mirrors introduce a playful and natural aesthetic to interiors. The soft, rounded, and often asymmetric shapes break the monotony of traditional decor, adding a dynamic and creative element to any wall.
2. They're Versatile: Blob mirrors transcend style boundaries, fitting into minimalistic, modern, bohemian, or even eclectic interiors. Whether you prefer a monochrome palette or a burst of colour, these mirrors can complement your design choice wonderfully.
3. They're Conversation Starters: With their distinctive forms, blob mirrors aren't just functional pieces—they're conversation starters! They draw attention, stimulate curiosity, and often become the focal point of the room.
4. They Amplify Space: Like all mirrors, blob mirrors have the ability to make spaces appear larger and brighter. They bounce light around the room, creating an illusion of depth and space. But with their exciting shapes, they do it with an extra dash of style.
5. Artistic Appeal: Blob mirrors are more than mirrors—they're pieces of wall art. They express personality, taste, and even a sense of humour. Every blob mirror is a creative statement, making your space truly unique.
Where to buy blob mirrors:
Here's our pick of asymmetric, organic-shaped mirrors that'll enhance your space: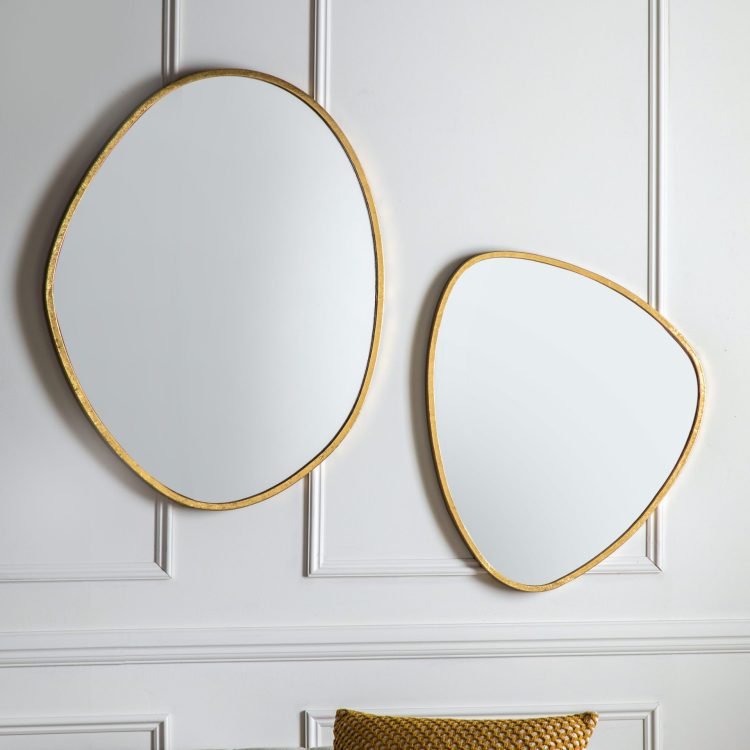 Add a touch of glam to your wall with these free-form mirrors available in a beautiful gold frame. Perfect for any room and available in two sizes, you can pick the one that suits your space best.
Small: £80.95, Large: £119.95 – Click here to shop.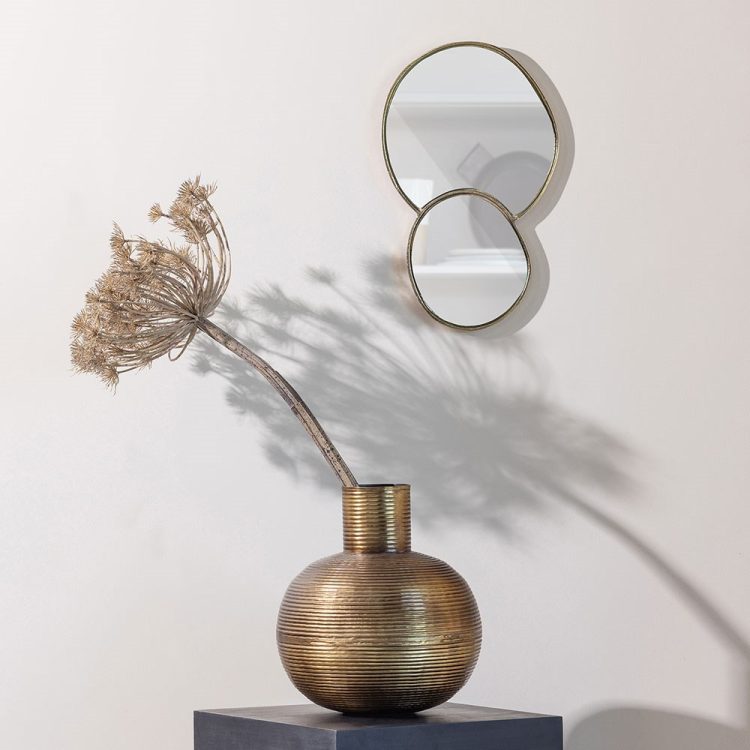 One mirror, but twice as stylish! With its gold finish and organic shape, this mirror can be part of your gallery wall, lighten your hallway, or even be a decorative addition to your bathroom.
Price: £42.46 – Shop it at Cuckoo Land.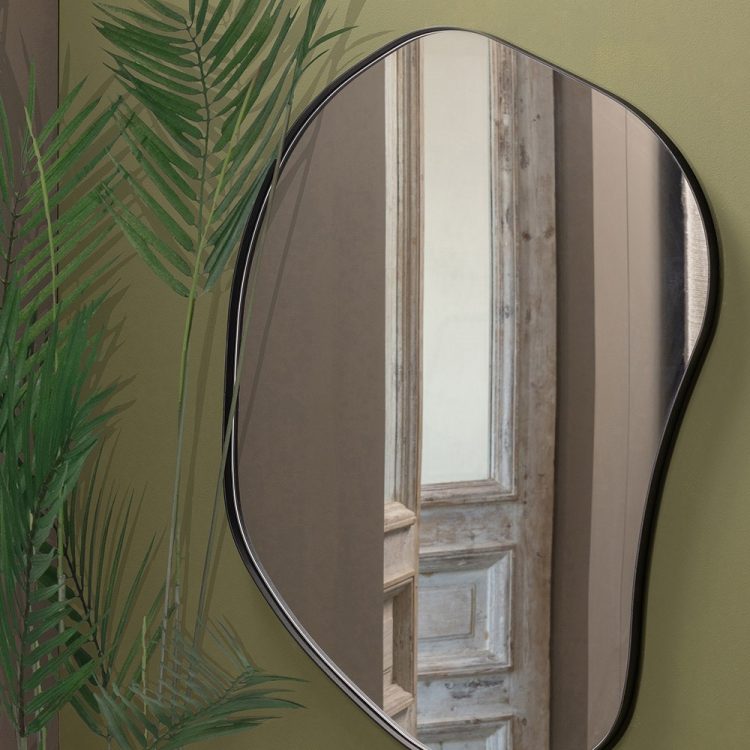 Breaking the mould with its shape, this mirror can be styled in any room and is guaranteed to add some extra space. With its unique matte black metal frame, it's sure to catch anyone's eye.
Price: £144 at the time of writing – Shop at Cuckooland.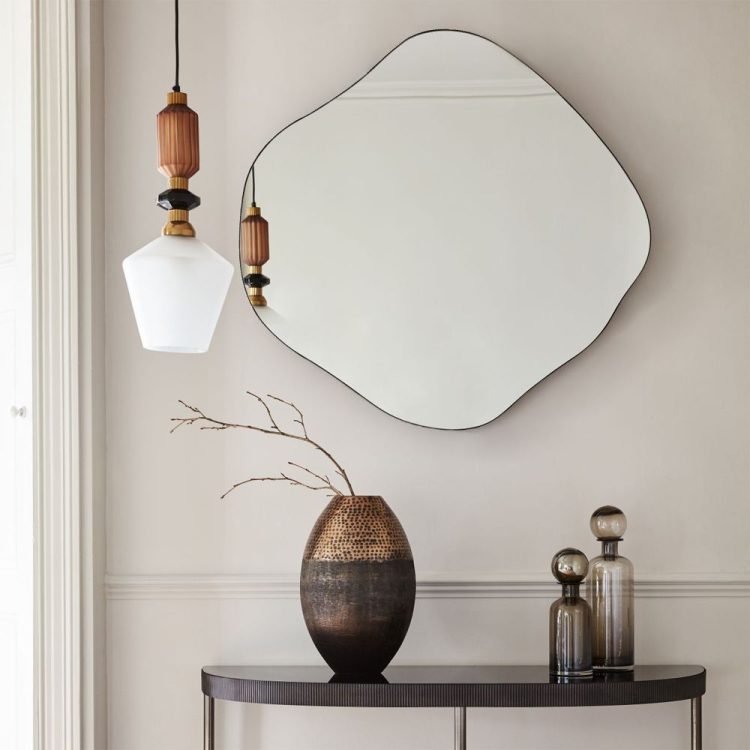 Bring the outdoors in with this calming mirror. With a natural oak wood finish and an organic shape, this mirror is the perfect centrepiece for any contemporary space with a touch of Scandinavian style.
Price: £550. Shop at Sweetpea & Willow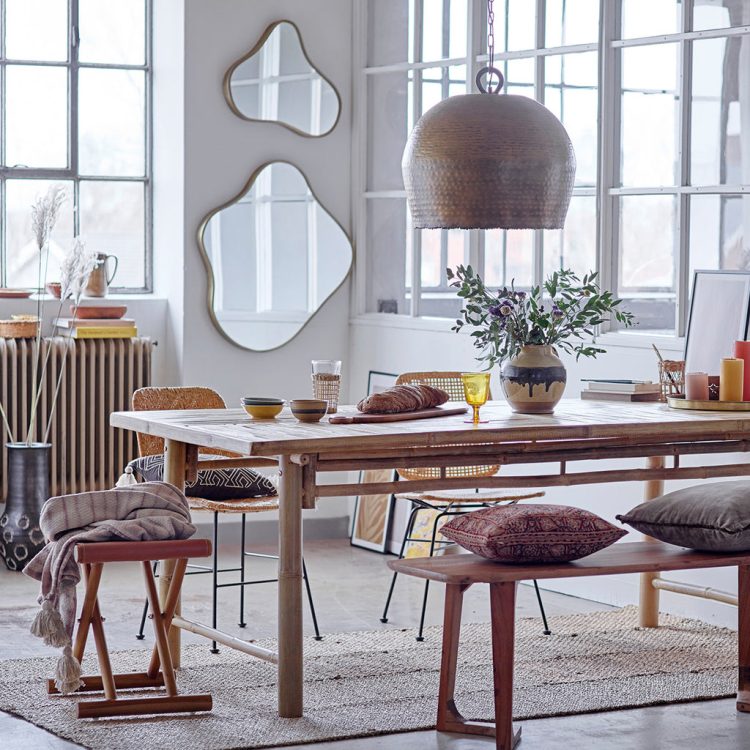 This fun yet seriously edgy mirror with a curvy organic shape and brass finish is sure to liven up any room.
Medium: £199, Large: £399. Shop at Five And Dime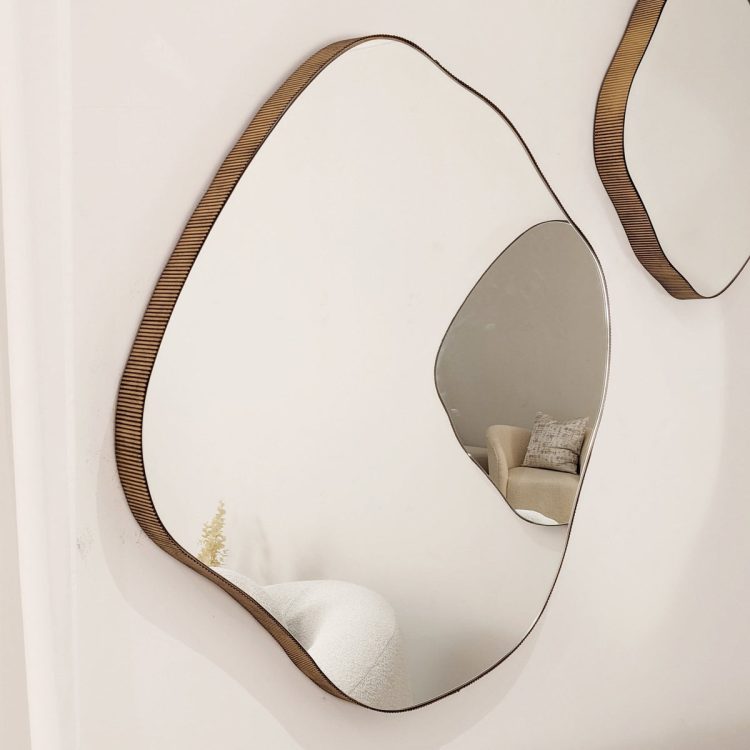 Achieve an interior designer look with this stunning mirror. Its unique abstract shape and deep corrugated brass frame give it an ultra-modern feel that will suit any interior scheme.
Mediu: £299, Large: £399. Shop at Rowen Homes
Now you've chosen your blob mirror, you're probably wondering how to style that bad boy?
How to Style Blob Mirrors
The beauty of blob mirrors lies not only in their unique design but also in their versatility. So how do you incorporate them into your living spaces? Here are some practical tips to help you embrace the blob mirror trend:
Entryways: There's nothing like a striking blob mirror to welcome you home. Entryways are an ideal spot to place a blob mirror. Not only do they provide a last-minute appearance check as you head out the door, but they also reflect light, giving a warm and inviting feel to your entrance.
Living Rooms: Blob mirrors can become the focal point in a living room. Placed above a fireplace or a console table, or even alone on a wall, they can elevate the aesthetic of the room. Paired with artwork or photos, blob mirrors can contribute to a captivating gallery wall.
Bedrooms: A blob mirror can add a soft, artistic touch to your private sanctuary. Whether it's above a dresser or a statement piece on its own, a blob mirror can bring a playful vibe into the bedroom decor.
Bathrooms: Blob mirrors can work wonders in bathrooms too, breaking the straight lines typically seen in tiles, cabinets, or shower screens. They can add a dash of style to the functional space.
Final points to remember:
The blob mirror's organic shape might not always be suitable for tasks that require a full reflection, such as grooming or dressing. A blob mirror in the bathroom could work as an additional decorative mirror, but it might not replace the functionality of a traditional mirror entirely.
When placing your blob mirror, also consider what it will reflect. Position it to capture more light, showcase a beautiful view, or mirror a piece of art. Remember, it's not just a mirror; it's a design tool to enhance the aesthetic and mood of your space.