In our house, we're a little bit animal print crazy. Basically, if it's got an animal on it, we're more likely to buy it.  At the moment, we're looking for a new cushion to go on the chair on our dining room, which is receiving a little bit of a makeover since our house move last month.  I've been trawling the web looking for room accessories that'll suit the room.  Upon my virtual travels, I've come across several animal print cushions – they're clearly in vogue at the moment.  Here are some of my favourites: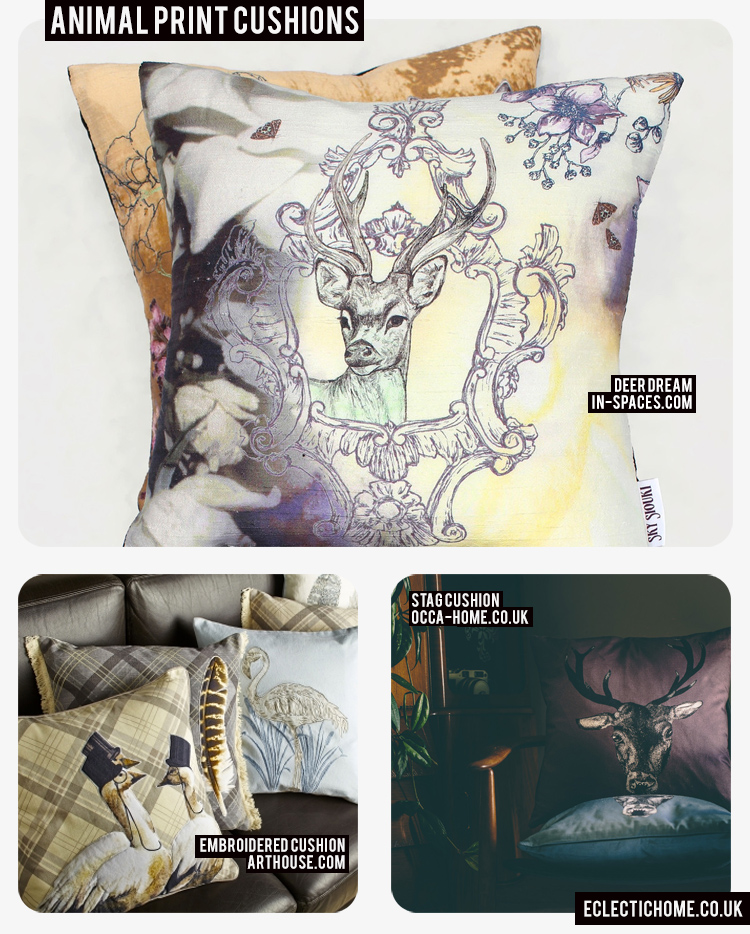 Top:  The "Deer Dream" cushion is by designer Sky Siouki, and available at In-Spaces.com for £85 (along with a number of coordinating cushions from the designer too.)  The stunning deer design is digitally printed onto 100% silk dupion, and the cushion is backed with 100% cotton velvet.  The cushion is fastened with a large mother of pearl button.
Left:  ArtHouse.com say their capsule collection of new cushions are lovely, soft and comfy, what more could you ask for!   Their designs are inspired by memories of waterside holidays – from crisp morning autumnal walks around highlands lochs ending the day by an open fire, to the glorious summer sunshine walks around Mediterranean lagoons where flamingos stand.  My favourite is the beagle in the trilby.
Right:  This distinctive plum purple stag print cushion was designed by Lisa Bliss for Graduate Collection.  It's a stunning piece.  Lisa's hand-drawn stag design has been printed onto luxurious 100% cotton satin fabric.  Out of all the cushions featured, this was my boyfriend's favourite – he really liked the matching cups on Occa-Home.co.uk too.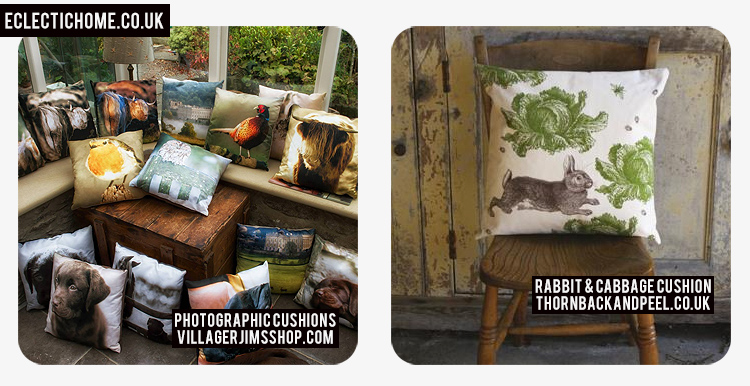 Left:  I'm really happy to be featuring these wonderful photographic cushions by Villager Jim, a talented wildlife photographer living in the heart of the Peak District.   After one of his images of a sleeping labrador went viral worldwide, Jim's social following has grown phenomenally, picking up new Facebook likers daily.  You might recognise Villager Jim's work too, as it's often featured on TV shows like Springwatch and Autumnwatch.  This month, the photographer released his first range of photographic cushions, featuring a number of animal characters from an adorable peeking donkey, to a cute sleeping labrador.  Releasing a line of photographic cushions was a canny move, as they're currently very popular in the eclectic-style home and beyond.
Right:  This is one of my favourites!  The wonderful cream cushion cover features a chocolate brown rabbit bouncing between green cabbages.  The cushion was designed by Thornback & Peel, a duo of talented ladies with a studio in London who cite an "eclectic mixture of Victoriana, Mrs Beeton's household management, Mr McGregor's garden, 17th century microscope imagery of the natural world, Norfolk and Devon" amongst their sources of inspiration for the brand.  I'm kind of addicted, and have been scanning their website all evening.  The design is screen printed onto a 100% cotton cover.
Now share your favourite animal print cushions:
Have I missed a fantastic cushion that you think deserves to be featured, or have you designed one that I should know about?  Feel free to add comments below and I'll happily take a look!