Teal is a versatile colour that works in a number of palettes, it is bold, fun and never fails to look stylish. Plus, it works very well with contrasting colours and decorative patterns – for these reasons, the colour is often used in eclectic-style homes.
Are you redecorating your room? Read our guide to teal home decor & find out more about using this colour in your next design project. There are plenty of ideas and tips below: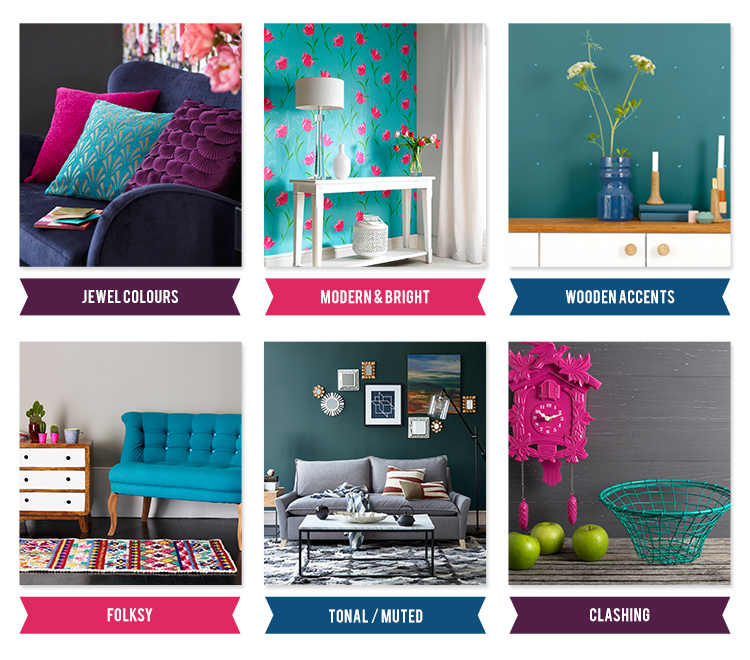 Six ways to use teal in your home decor:
From top, left to right:
Jewel Colours:
Teal works wonderfully well with deep, rich jewel tones, such as emerald green, amethyst purple, ruby red, topaz yellow, sapphire blue and sapphire pink. Pairing these colours together results in a lavish, opulent effect. Use jewel tones as a vibrant pop of colour against an otherwise dark, plain background, just like the picture above.
Shop the look:  Tesco Direct Julianne Loveseat Velvet, Midnight Blue, £399. Texture Chenille Cushion, Shocking Pink, £10. Gatsby Cushion, Teal, £10. Fan Cushion, Purple, £14.
Modern & Bright Feature Wall:
You can achieve a stylish, modern look by pairing vibrant turquoise-teal with hot pink accents and high gloss white furniture.
We love the bright and bold feature wall using wallpaper from Arthouse.com (though, this exact design appears to be out of stock at the moment).
Neutral Tones & Wooden Accents:
Dulux love teal so much they've named it their Colour of the Year 2014.  Dulux's creative director Marianne Shillingford suggests pairing the colour with "pops of neutral tones and natural wood in your furnishings" (as in the picture above).  She says these two elements will compliment the teal colour and create balance – I think it works wonderfully.
Folksy:
Teal works wonderfully with traditional, "folksy" style furniture and furnishings. The bold shade contrasts well with the bright and happy primary colours you'll often find on pieces inspired by folk style.
Folk style is also characterised by the use of natural materials, handiwork, and intricate woven patterns – so look out for these when shopping. Of course, you're not restrained to the high street when it comes to this interior style – pick up pieces on your travels, visit markets, visit thrift shops or seek out specialist retailers.
PS) The rug in the mood board picture above is by Oliver Bonas, and it's probably my favourite thing on this whole page – isn't it stunning?
Tonal / Muted:
Create a chilled-out space by using tonal colours, pairing different shades of blue-greens with teal. Alternatively, achieve a similar look to that in the photograph above by matching teal with other desaturated, muted colours like soft browns and washed-out greys.
Shop the look: Bliss Sofa & Steven Alan Cushions from West Elm.
Once you've created your relaxed space, add a gallery feature wall and fill it with an eclectic mix of artwork pieces in tonal colours.
Clash & Contrast:
Think jewel colours – but go as bold, bright, brash and daring as you like. This theme was made for the eclectic home. Pick unique ornaments, quirky furnishings and fun accessories and throw them all together – go loud and go proud – and clash everything.
I just LOVE this Gisela Graham wire bowl in teal from The Contemporary Home (pictured above), styled with this hot pink Acctim Mizzi Pink Cuckoo Clock
.
Tell us how you've used teal in your home decor:
We'd love to hear tips for decorating with teal. For example, which other colours have you paired this shade with? Which shops would you recommend for their teal home decor accessories? Tweet us your photos to @_EclecticHome and tag them with #TealHomeDecor