Last week, I featured some wonderful mustard yellow pieces in my #WishListWednesday post. Today, I'm focusing on beautiful bohemian style. Here are six gorgeous "boho" items that caught my eye this week: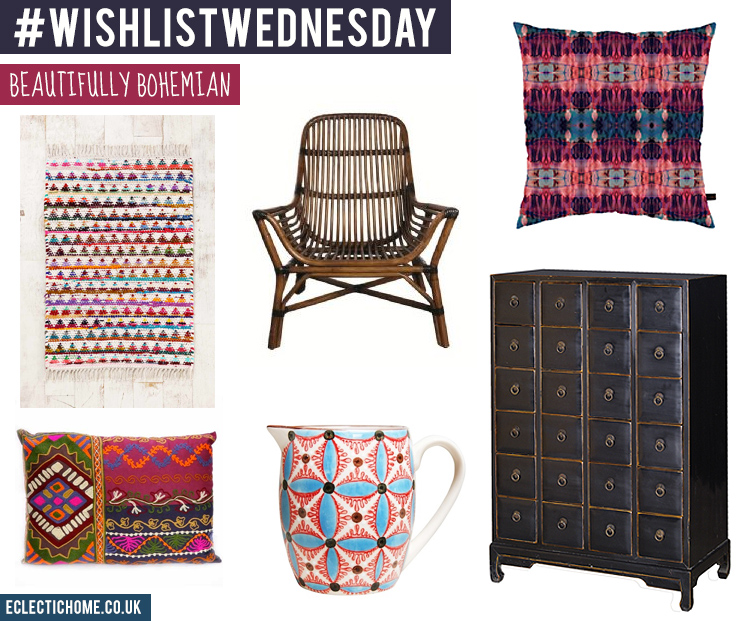 From top left, clockwise:
The first item on my wish list this week is Urban Outfitters' bright woven rug, which features a multi-coloured triangle design and frayed edges. The rug is made from 100% cotton and costs just £18. Isn't it lovely?  I'm thinking about getting it for my office room…
The second item on my wish list is the wonderful 'Pharaoh' woven lounge chair available from AlexanderAndPearl.co.uk (£325).  The chair is modern, but with a vintage feel.  I think it'd look wonderful piled with the cushions featured on this page.  I'd love this for the corner of my living room – you?
Earlier this week, I discovered London-based designer Amy Sia, and I fell in love with her cushions. They are hand made right here in the UK from 100% cotton (front, the back is cotton/linen blend).  I just really like the eclectic mix of colours, patterns and prints Amy has on offer, though the Sierra (the purple-pink mirrored watercolour print – pictured above) is probably my favourite.  Here's a look at some of the other cushions Amy Sia has in her shop too:
Next up, this wonderful cabinet by The French Bedroom Company.  It's a bohemian-style oriental apothecary chest.  The company say the chest is "smart, elegant and chic" – I have to agree with that description!  The piece is new and hand made from hardwood, but it is finished with a distressed satin lacquer to give it the look of a vintage heirloom.  This cabinet was £595 but is currently on sale for £368.
(Incidentally, I love how The French Bedroom Company have styled the chest, with the cute deer lamp and dog cushion.  As readers will know, I love animal print cushions!)
Next up, this bohemian-style "sunshine" milk jug.  It is bright, bold and the pattern is fun – I think it'll look lovely mismatched with some of the other ceramic pieces from The Oak Room too, such as this hand painted jug  –
Last, but by no means least, I've chosen this beautiful mosaic pattern cushion, created by italian textile designer Roberto Bianchini.  It's available at JasmineWay.co.uk  for £43.00.  Bianchini creates his textiles from raw cotton material and accentuates them with intricate embroidery. I love the mismatch of patterns and colours – it's really gorgeous.  Here's a closer look at the piece:
Which is your favourite piece?
Let me know in the comments section below!
Shop some more of my favourite bohemian style pieces: