Summer reawakens my love of colour and right now I'm feeling very inspired! As I sit here typing on this gloriously sunny day, I'm looking out of the patio windows and there's not a cloud in the vivid blue sky. I can see bright green trees slowly moving in the breeze, and my beautiful purple and pink blooming flowers in the garden.
I think about how much I love this season and I recall visits to the seaside of years gone by! …All the eye-catching primary colours used on beach balls, wind breakers, buckets and spades….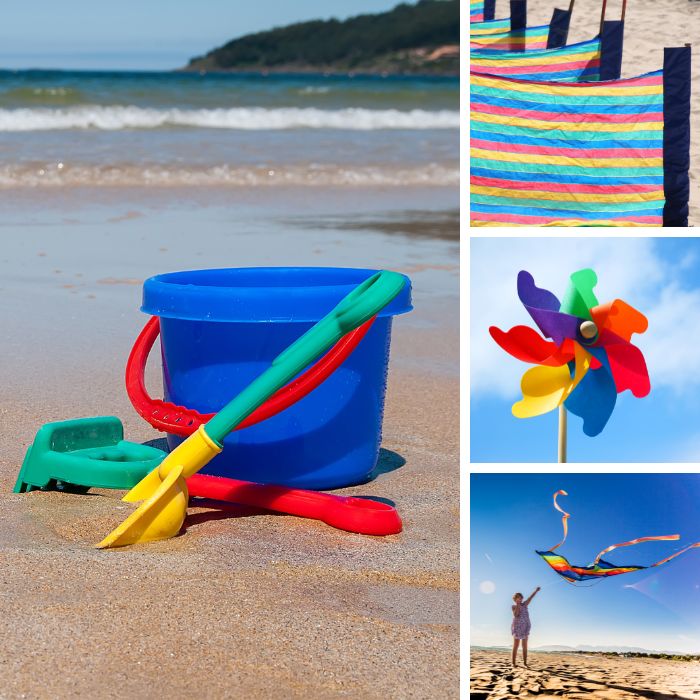 I think about brightly coloured kites soaring in the sky, fun rainbow pinwheels spinning in the wind and imagine sipping on exotic looking cocktails, or bathing in an infinity pool that stretches as far as the eye can see….
Back to reality for a moment, I'm dying to incorporate some of those wonderful, bright hues into my home this summer.  My bathroom is like a blank canvas – white dominates – we have white porcelain, white tiles and white walls…  And the room is in desperate need of an overhaul.  Our old bathmat is so tired, I threw it away last week and our tumblers and soap dishes have seen better days. Plus, I don't even own a set of coordinating towels.  I'm planning a revamp and I want to go bright and bold.
Going bright and bold in the bathroom:
Bathrooms are often painted white, usually because they're the smallest room in the house – people stick with white because they think it'll make the room feel bigger and more 'airy.' Luckily, our white bathroom gives me the perfect blank canvas to work with.
We rent this house so replacing tiles with ornate designs, painting the walls in vivid colours, repainting the wood around the bath and ripping up the flooring just aren't options I can consider right now…  Instead, I'll turn to furnishings and accessories to complete the bold and bright theme I long for!  Here's what I'm planning – hopefully my thoughts will help inspire you too: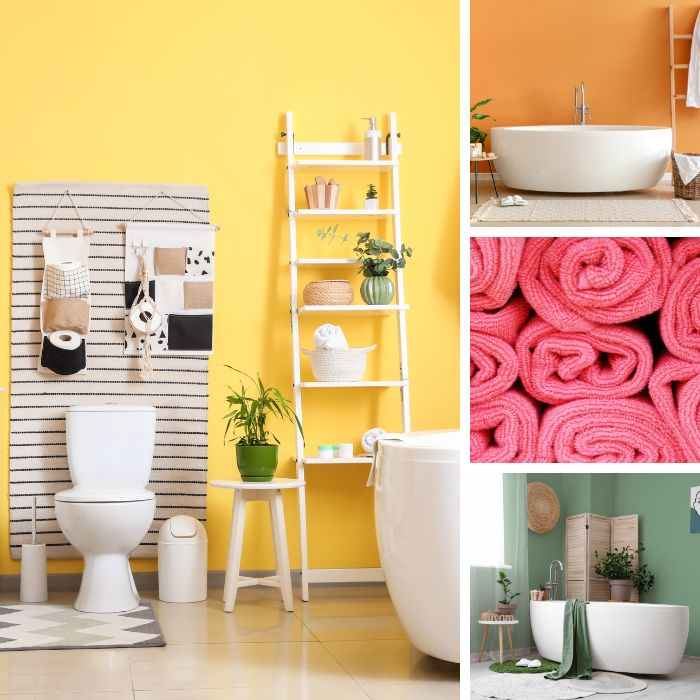 1) Mix, match and clash soft furnishings:
Who says that all of your bathroom's soft furnishings must match?  I'm looking for bathmats, shower curtains, pedestal mats, bath towels and hand towels in a variety of bold and colourful colours.
2) Opt for bright storage solutions:
I currently have a couple of boring, basic white boxes on the windowsill that hold my toiletries. I'll repurpose these elsewhere in my home and opt for a few brightly coloured storage boxes instead. These will add a pop of colour to an otherwise bland corner of the bathroom.
Is your tiny bathroom low on storage? Here's a great hack for you! Put a BOOK SHELF above your bathroom door. It will provide extra room for bottles of soap, hand towels, flannels and mouth wash. Idea courtesy of the clever team at MarthaStewart.com . By emptying everyday items like cotton balls and spare toothbrushes into glass jars, and choosing only yellow coloured storage, the shelf looks more like a display!
3) Cabinets and vanity unit makeovers:
There's not very much room in our bathroom, but I fancy a small freestanding unit in the corner to hold clean guest towels and extra loo roll.  I'm thinking of buying something inexpensive and painting it in a bright hue.   If you have a family, a vanity unit or cabinet ensures you have plenty of storage to tidy away bathroom toys.  
4) Go bold with accessories
From toilet brushes to toothbrush holders – who says they must be plain and boring? Mix, match and class your accessories too!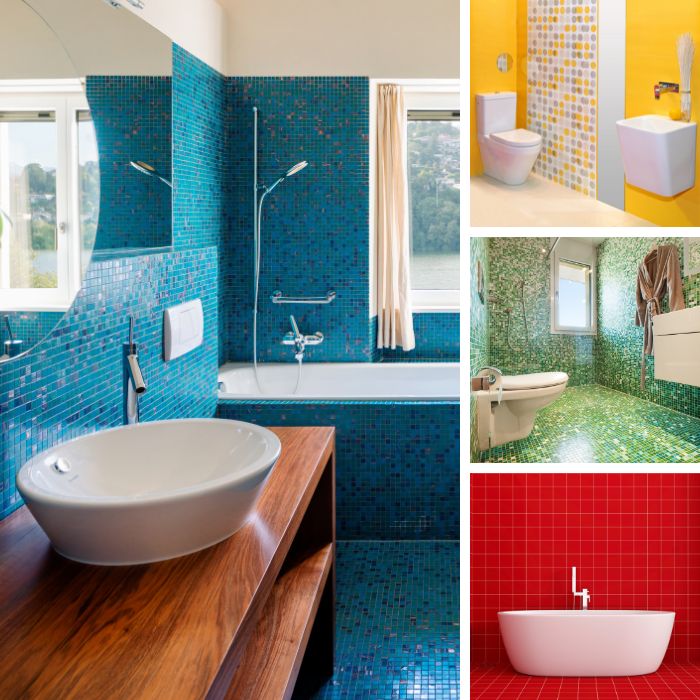 Bonus tips:
1) JLBathrooms recommend you opt for stripes in your bathroom, rather than bold blocks of colour, to make it feel bigger.  Vertical stripes will create a nautical feel and help the room appear taller.  Horizontal stripes to open up the space, inject a little energy and help the room feel larger.  The effect is certainly pleasing – just look at this beautiful bathroom in orange and blue:
2) Maximise your natural lighting where possible and add plenty of artificial lighting to contribute to the room's overall brightness. Use an oversized mirror to reflect light around the room. Tip source: Houzz.
3) If you do not have much room, a brightly painted plant stand or step ladder will add a pop of colour in your bathroom.  (See above!) Use as shelving to store baskets, clean towels, hand wash soaps and other bathroom-related paraphernalia. I love how Kate from FarmHouse38 has accessorised her cabinets with rugs, hand wash and accessories all in her chosen bright colours.